The annual Clothesline Project is back!
Join us at the Spirit Square, Castlegar City Hall for speakers, music, displays, food and refreshments.
Wednesday June 1, 2016, 11:00 – 2:00
Together we can make a difference!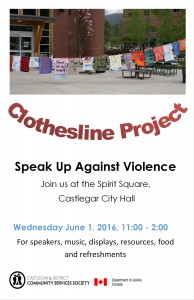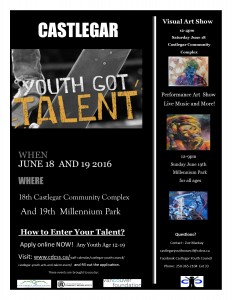 Castlegar Youth Arts and Talent Event
Looking for Youth Applicants
What: Art Show                                            What: Performance Arts
Where: Castlegar Complex                         Where: Millenium Park
When: Saturday June 18, 12-4pm             When: Sunday June 19, 12-9pm
APPLY ONLINE TODAY! 
Talent Show, Live Music, and more surprises! Fun for all ages, bring your friends and family!
Click the poster for more details.